Heading north from Valladolid, I first went to Bilboa and then San Sebastián. Approaching Bilbao, the terrain changes from rolling plains to fairly rugged mountains. Steep valleys make sightseeing impossible, but at least the trees start to look familiar. Entering Bilboa is like entering a different country. Which, depending on who you ask, it is. This is Basque Country. And this is the home of the Basque people, as it has been for thousands of years.
How many years? Who knows. Maybe 7,000, give or take a few thousand.
Anthropologists and geneticists believe that Neolithic farmers came to the northern Iberian Peninsula around 7,000 years ago and mixed with the indigenous peoples. About 4,500 years ago, another migration brought peoples from the Russian Steppes to the area. And then… no, wait. That's it.
While the rest of Spain fell under the rule of the Moors, Basque Country did not. When Spain was ruled by the Romans, Basque Country was not. Eventually, Basque Country was "ruled" by the Christians, but the Basque people resisted.
The Basque language is not related to any other living language. In the world. The Basque people are genetically distinct from the people in the rest of Spain.
And how can this be? Occam's Razor, widely cited (and usually incorrectly, as in this case), gives the answer. Aliens!
Or, and hear me out, maybe it was the rugged mountain terrain or the lack of golden cities. Was it just not worth the effort to root out the Basque? Or, yeah, aliens.
So, Bilboa was built by aliens. It does explain the Guggenheim Museum! Ah, the Guggenheim. Fantastic builder, not much of an art museum. Its ridiculously complicated shape draws tourists from around the world. And, isn't that what great architecture should do? Shouldn't it grab hold of your imagination and shake it like a snow globe? Or should it just demand every stone, wall tile be individually shaped?
Bilbao, aside from my controversial architecture stance, is a great city in its own right. It was a decaying industrial city, straddling the River Nervión, brought back to life recently with great works like the Guggen… Oh, crap.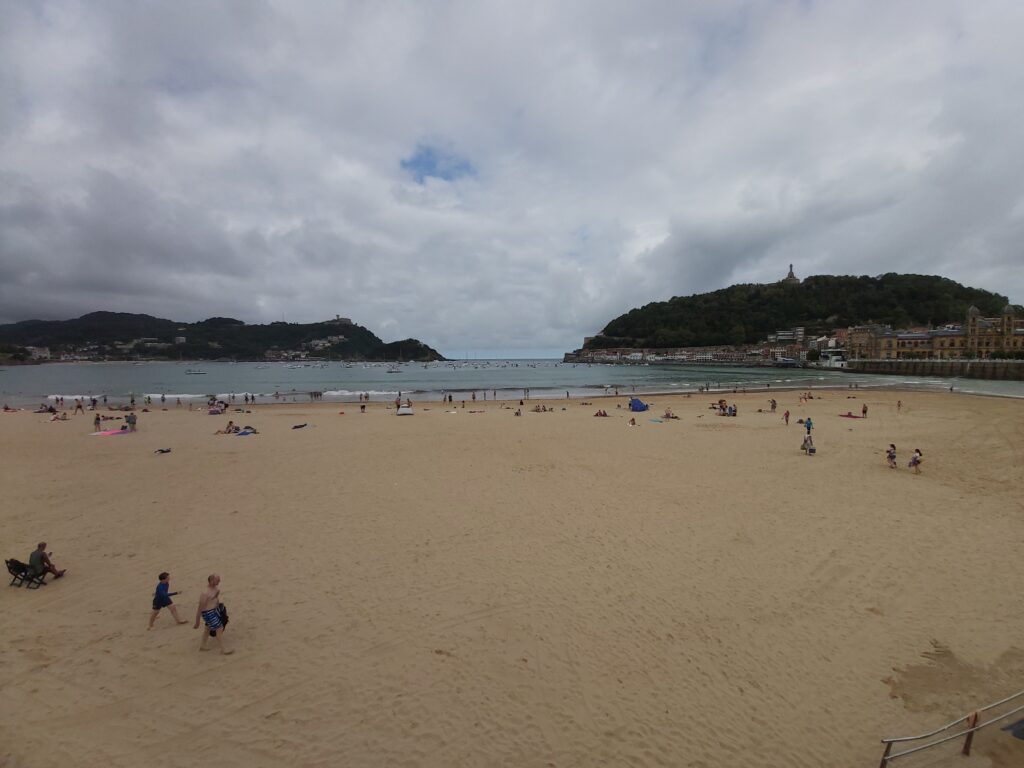 On to San Sebastián or Donostia if you speak Basque.  Sitting on Spain's norther coast, a few miles from the French border, is Concha Bay, so perfect that it must have been in use since man first noticed things floated.  Wood, bread, ducks, witches.  The historic old town is packed with pubs and Pintxos Bars, tiny shops, ancient churches and more great restaurants than you can count.  Well, if you wanted to count them, you could start with the 25 Michelin Star restaurants in the city!  Without a doubt, Pintxos rule.  Pintxos (Peen-Chos, the Basque word for Tapas) are displayed in glass cases light fine jewelry.  A single Pintxos bar might have dozens of Pintxos to choose from.  Full-service restaurants often lurk behind, below or above a Pintxos bar.  Tables in the front are for Pintxos, in the back for full meals.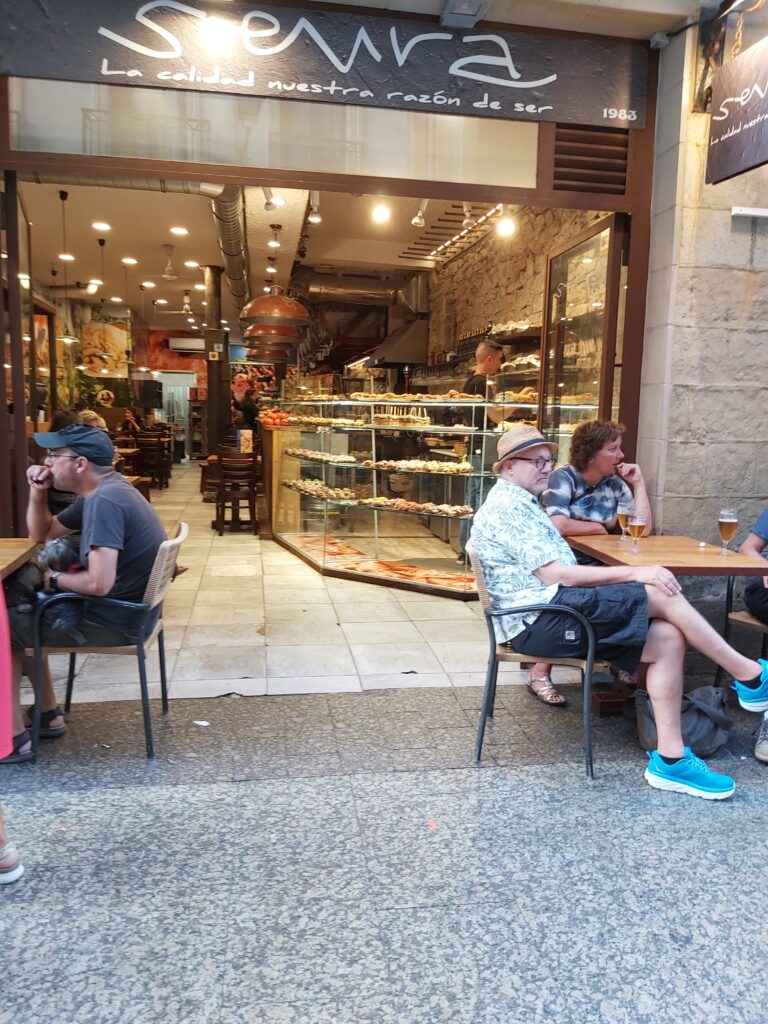 San Sebastián host "Semana Grande" in August and the "Regattas: Bandera de la Concha" (teams compete in giant row boats) in September, both pack in the tourists. I conferred with my bank account and visited in between these major events. If you want to have an extravagant time, plan to catch one or both of the events. Or show up in any month, as events are planned all year long. Drink cider in January or Txakoli in June. Txakoli (Cha-Coal-ee) is a Basque white wine, slight sparkling but completely unlike Cava found throughout the rest of Spain. Or catch Book Day in April, Soccer in July, or horror and fantasy films in October. Or, well you get the idea.
San Sebastián is big enough to have everything, but small enough to walk almost everywhere. You can avoid the expense of an old-town hotel, and just walk, bus or taxi. You can lounge on the beaches (yes, -es), surf or paddle board, put on your running shoes and run along the coast, take a sight-seeing cruise, or hike up mount Urgull. Definitely, stop into Donostia-San Sebastián when you're in the neighborhood.
Is it just me, or did they stretch the center arch in the Basilika Santa María just a little too far? The Laws of Physics are the only laws that enforce themselves!