Zaragosa! Sitting west of Barcelona and west of Madrid, Zaragosa is flat and hot – well, hot when I was there; but no one else seemed to mind, so maybe it's just plain hot. Unless you are in the center of the old city, everything is beautifully laid out: spacious and grand. In the oldest parts of the city, the streets are narrow, winding, and, more often than not, chocked full of small Tapas bars. Population approximately 660,000.
Ok. I was going to launch into the Basilica del Pilar, but I have to talk a bit more about Tapas bars. Yes, Tapas bars. I have come to realize that a "bar" in Spain is a casual place for food and drink. They are not the belly-up-to-the-bar-and-drink-until-your-socks-fall-off places we uncultured Americans think of. If those even exist in Spain, they are called "pubs." But not all pubs are those kinds of places either; good luck in finding one. Sorry, Americans. We must have inherited our idea of bars from the British and Irish. To be fair, many Irish pubs in Spain are the aforementioned establishments, but not all. Bars in Spain are different.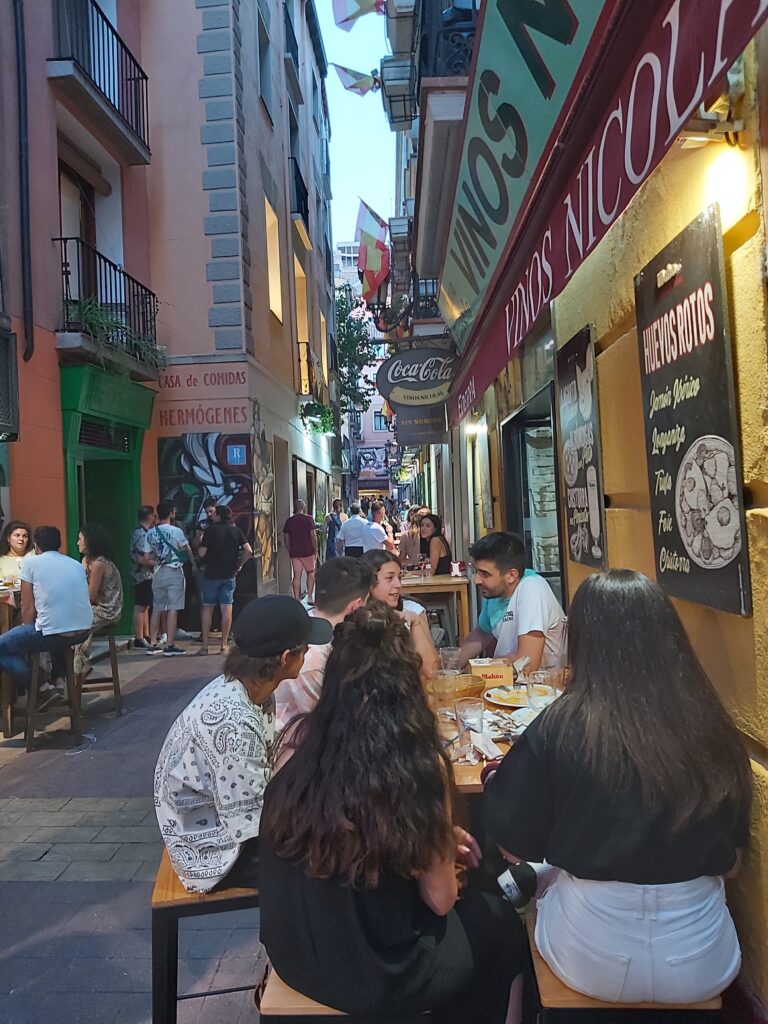 And that leads us back to Tapas. A Tapas bar is a 'casual' place where you can eat small snacks and have a drink. They are frequented by groups of friends who sit, drink lightly, and nibble. Occasionally, that group of friends might be 6 men and they might drink heavily, eat heartily, and a few might be dressed like young Britney Spears, but that is not the usual. And there's probably a story in there somewhere. Oh, if you with a large group of Spears, pay attention to what you've ordered. Or you will likely to get the old "chicos…. CHICOS…. HOLA!" from the bartender. Never a good idea to order a round of drinks and then wander off.
If you want to talk Tapas or Bars in Zaragoza, and I know you do, then you have to talk about "El Tubo." "El Tubo" — probably named for the tube- or pipe-like narrow streets that funnel everyone to a good time, but I never asked — is an area in the old town dominated (and I mean dominated) by Tapas bars. Tapas bars are cozied up next to each other like metaphors on a metaphorical cozy thing. Seriously, you can only tell them apart by paying attention to the tables and chairs – white chairs and brown tables belong to bar A; brown chairs and brown tables are bar B; people standing are… ordering inside.
Now, the Basilica. The entire city seems to be anchored by the Basilica del Pilar, or the Nuestra Señora del Pilar Basilica, is a massive Baroque cathedral built in the 17th and 18th centuries. I know you want to look up the story of Mary, James and that darned ol' jasper pillar, so I'll wait.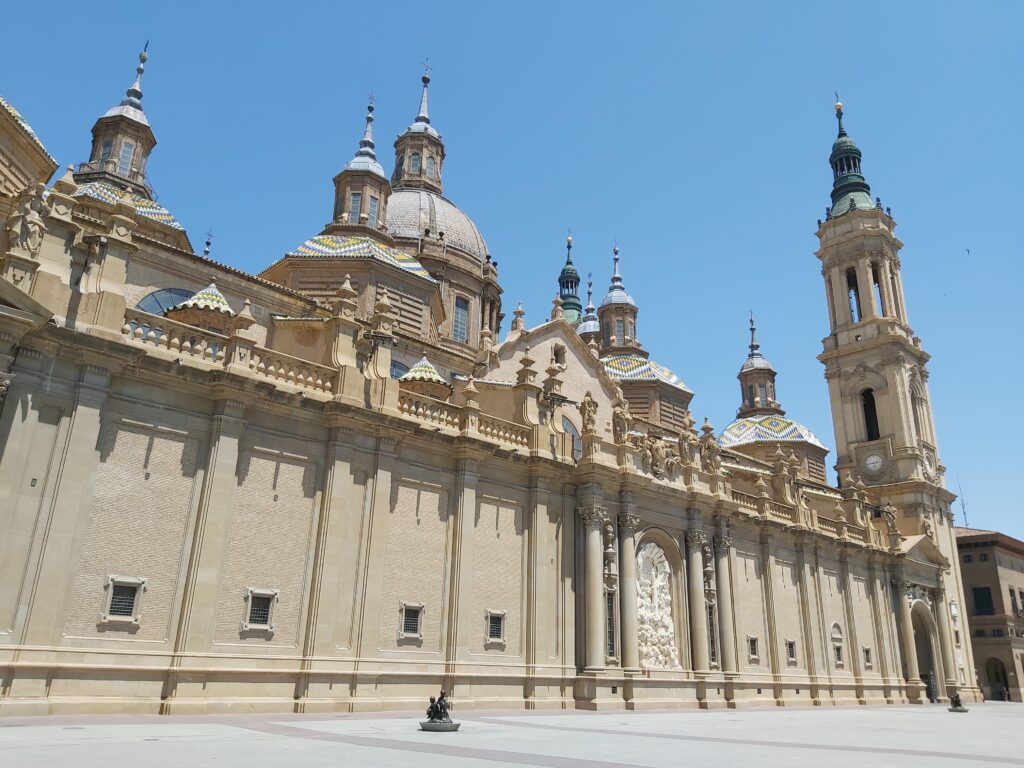 Interesting, right?
The Basilica is monstrous, massive, marvelous… and, somewhat oddly, the façade facing the square is beautiful and the side facing the river is, well, more of a fortress. Might have made more sense in the 17th century. Entrance into the Basilica is free, but please no photos. And, unless you are an ugly American, do not ask the lady taking photos Disney Land style to take a pic of you pointing at the signs saying not photography.
While you out and about, don't expect much to speak, hear, or read English. Not even at your hotel. This is Zaragoza! Good news, though, is that you'll be speaking, hearing, and reading Spanish and not Catalan. (Side note: back in Girona, a server noticed that I spoke English and gave me the Spanish menu instead of the Catalan menu. Nice.) Do, however, expect the unexpected. Like the wonderfully excellent "Moonlight Experimental Bar"! Oh, and this is actually a bar, a cocktail bar. Running the bar, is a husband/wife team who craft cocktails with the dedication of 17th century stone mason crafting the Basilica. It might take a century or so, but you'll be glad you waited. Shout out to "Moonlight Experimental Bar." Oh, and don't break anything: each drink is served in a unique vessel (not a glass or a cup), and each vessel was handmade by a local artist. That's worth a visit, because you're not a drunk, you're a patron of the arts!