The history of Montenegro is similar to the rest of the Balkan countries. Ancient peoples, yadda, yadda, yadda, multiple occupiers across recorded history, yadda, yadda, yadda, and independence (in this case, it came in 1878). Then came WWI and Yugoslavia. In 1992, with the breakup of Yugoslavia, Montenegro and Serbia became the Federal Republic of Yugoslavia. In 2003, they became the State Union of Serbia and Montenegro. Much nicer. Finally, Montenegro became again just Montenegro in 2006.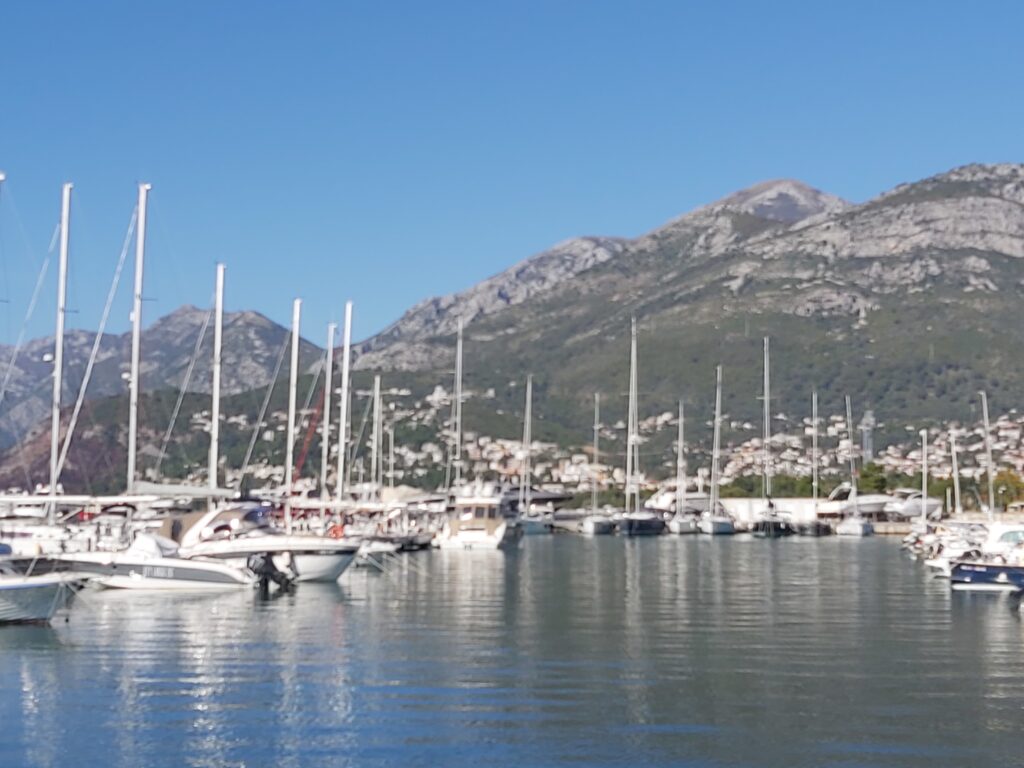 Take a look at a topographical map, and you'll see that Montenegro is mostly mountains, aside from a substantial bit of flat around the capital of Podgorica. The mountains are rocky and steep from the borders with Serbia, Bosnia & Herzegovina, Kosova, and Albania until they tumble into the Adriatic, resulting in rocky beaches, but crystal-clear rivers. No muddy sediment here. The mountains are not incredibly tall, peaking out around 8,300 feet, but they are very steep. Understandably, rails and roads pass under rather than over the mountains. Tunnels, not switchbacks!
If you're crazy and have enough time, I've seen plenty of switchbacks that must lead somewhere. Good luck. Get the added insurance on your rental.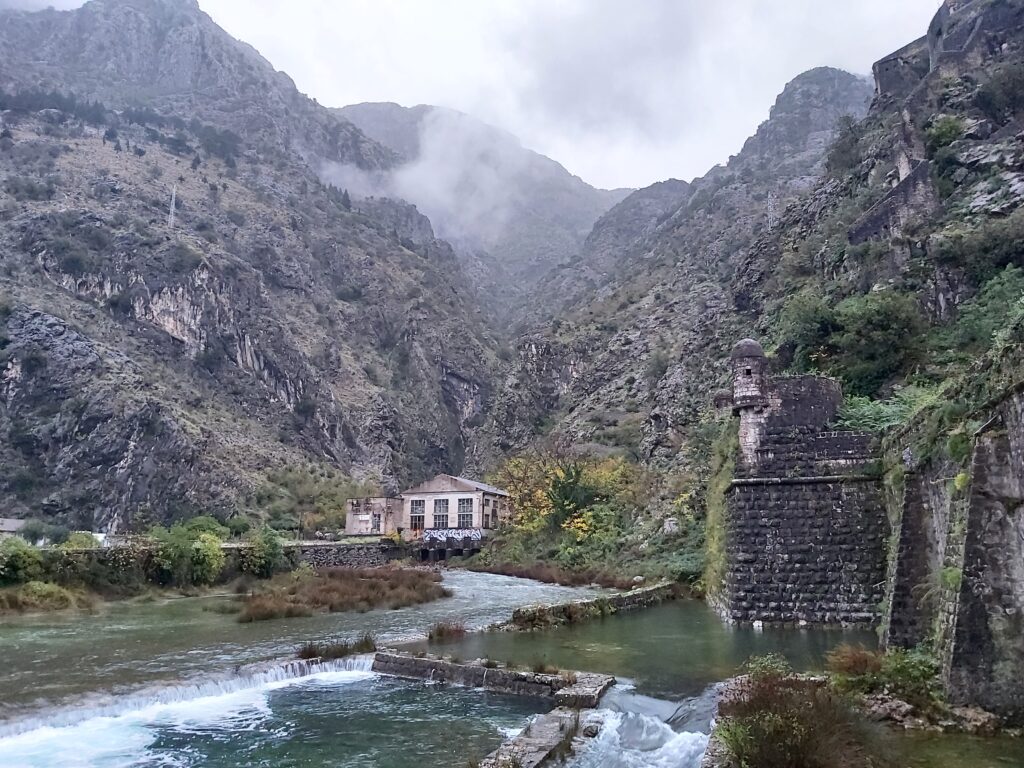 Back in Colorado I saw lots of T-shirts that said, "the mountains are calling and I must go" (John Muir, 1873, in a letter to his sister from Yosemite). Here, the shirt would read, "the mountains are calling, and they say 'don't forget your carabiners and chalk.'"
I spent three days in Bar, the terminus of the Belgrade to Bar rail line. A go-to sea port for Montenegro and landlocked Serbia during the Yugoslavian days, Bar is known for boat loads of tourist coming off of, um, boats. Cruise ships, sail boats, and even a naval fleet, keep the harbor full, unless it's the end of October and there aren't any cruise ships. There isn't an old city here, just the knee-height remains a few ruined churches. The local church, Church of St. Jovan Vladimir, is in great condition even it was constructed between 2006 and 2016.
Bar is incredibly annoying if you're thirsty. Lots of bars, that are not. The 'Terminal Bar', for example, doesn't sell beer. It is a good place to catch the ferry, however. Once I got over the disappointment, yeah, Bar was a nice town. But, aside from the day tourist and a side-trip to the 2,500-year-old olive tree, there's not a lot of reason to hang around Bar.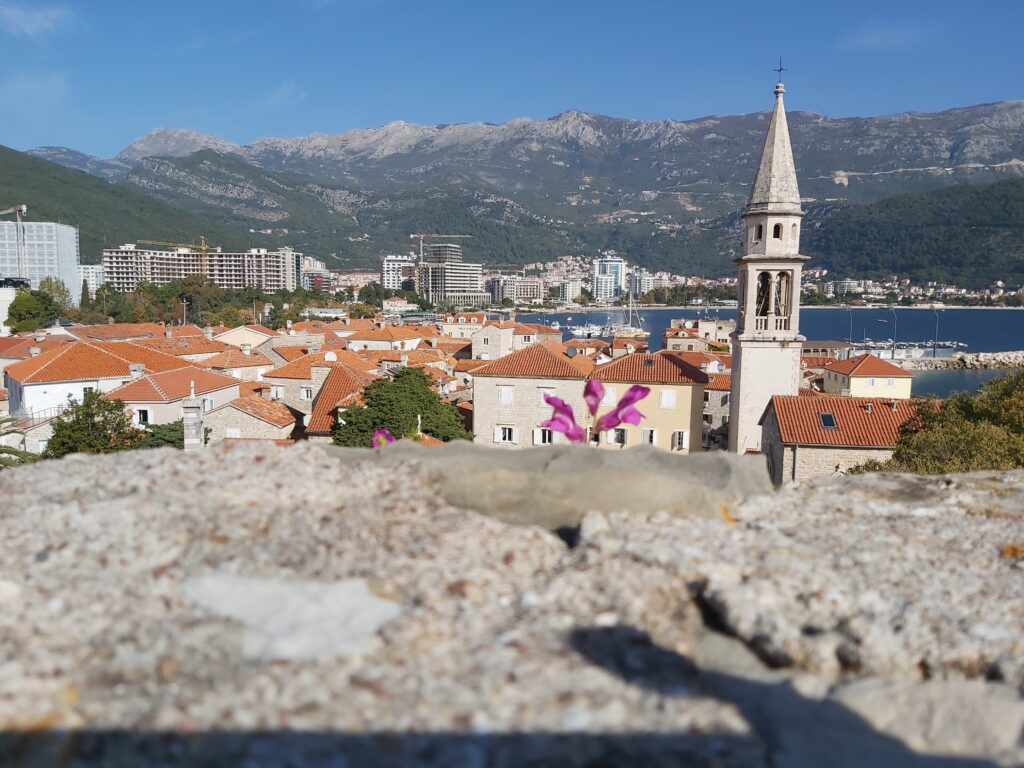 One hour on a bus brought me to Budva. Budva sits on the northern point of a large bay, but it's not a port city like Bar. I didn't notice any cruise ships or ferry terminals. Instead, the harbor is filled with small boats and medium-sized yachts. The yachts probably are bigger in the summer tourist season. All along the shore, high-rise condos are under construction, much to the dismay of the locals who can no longer afford to live in Budva without three jobs. Prices aren't crazy, about $300,000 for a small seaside condo (cheaper if you avoid new construction along the beach), but with a medium income of about $5,000/year…
There are plenty of restaurants and clubs along the shoreline to keep the tourist hoards occupied during the summer months. The beaches are rocky, but that doesn't deter the sun seekers. The sea is incredibly calm, with barely a ripple. So, no surfing but you can rent a kayak. Plenty of towns, mountains and parks are within an easy drive. It would be good place to rent a car and explore.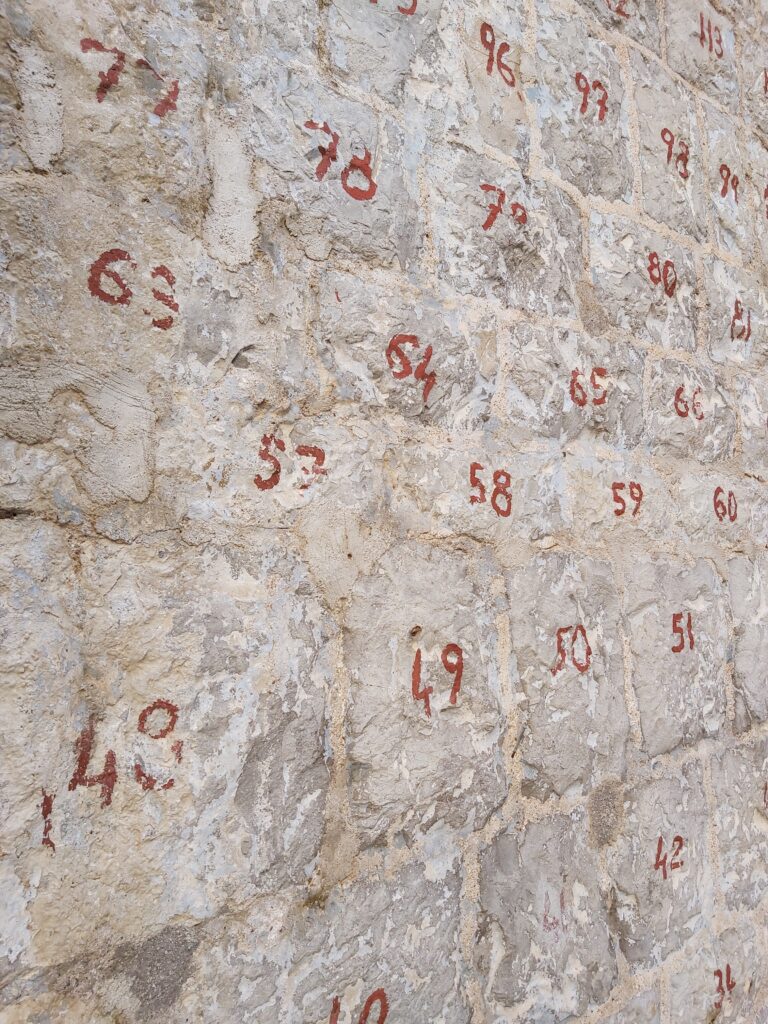 Budva's old town dates from 2,500 years ago, but it is hard to tell. It looks to new. In fact, it is. An earthquake in 1979 destroyed more than 70% of the old town. Some of the old structures survived, but most of what we see today was rebuilt, or refurbished, in the last 40 years. The old town is also very quiet. Literally. The council enacted a noise ordinance recently, limiting noise to 65 dB. For comparison, your super quiet dishwasher is probably 42 dB, and laughter is at least 60 dB. So, keep it to a mild snicker and courteous golf clap.
And then, Kotor. Kotor is another medieval town about 40 minutes from Budva. It can also be reached by boat through the Bay of Kotor: just follow the cruise ships. Yep, cruise ships visit Kotor even in November. Like Budva, Kotor suffered from the 1979 earthquake, so much of it has been shored up. The old town is larger than the one in Budva, but is similarly full of restaurants and tourist shops. With cruise ships docking directly across from the main city gate, it isn't a surprise.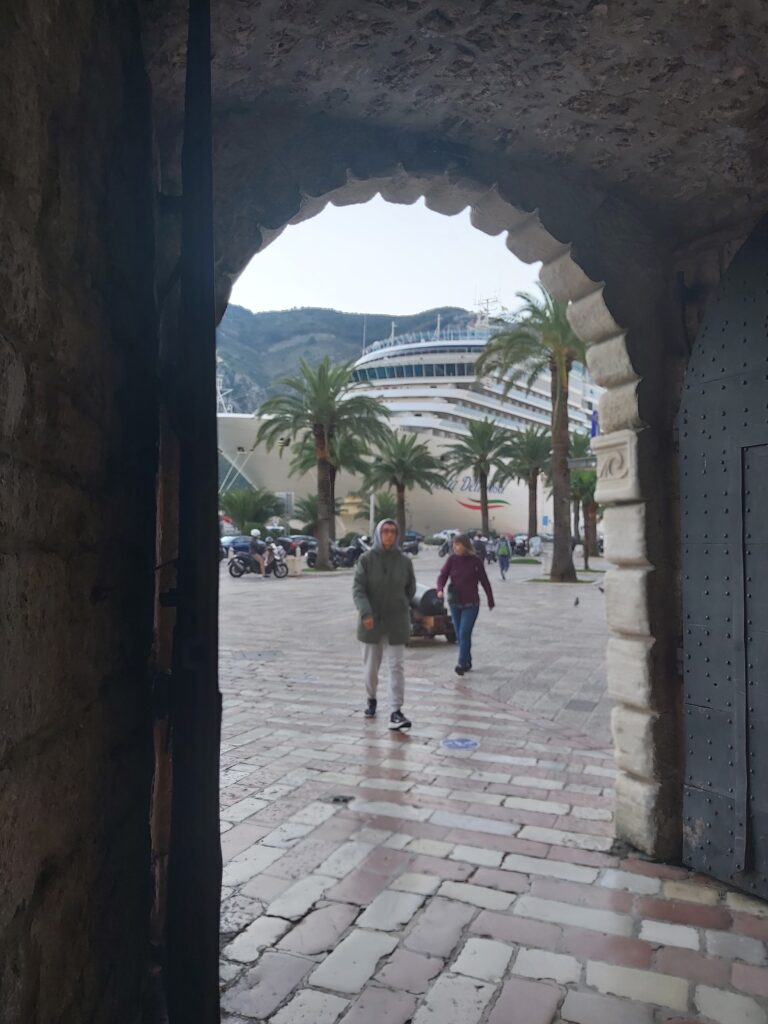 Mostly, shops sell cat related trinkets, as Kotor is filled with free-range, and surprisingly friendly, cats. Cat lovers carry a packet of cat food where ever they go.
Old town Kotor sits at the water's edge, with the old fortress climbing the steep hill behind it. Want to hike up to the fortress? The trail is called the "Ladder of Kotor and San Giovanni Fortress." Any trail with "Ladder" in its name should not be taken lightly. In fact, no trail in Montenegro should be taken lightly.
On my visit, I stayed in the Hotel Marija, in old town. Cheap rooms, at least in November, and a great location. Be warned though, tour guides are likely to post up their groups under your window, and the church bells start ringing at 8:00 am. With 9 churches inside the city walls, you can rest (pun intended) assured that your pillow will be close to a bell tower.
Most of the hotels and restaurants are clustered in the old town, but they can be found all along the Bay of Kotor. You'll probably want to rent a car, if you stay somewhere other than the tourist center. Or, maybe a boat? I noticed that many of the hotels and restaurants located inside the old city walls, have another location outside. I'm just guessing, but the outside locations might have lower prices.
Lonely Planet calls Kotor "the prettiest and best-preserved town in Montenegro." So, it has that going for it, which is nice. If I were to live here, I would look for a place on the other side of the bay. No tourists and great views of old town. But not much to do aside from enjoying the view.
So, those are my observations of Bar, Budva, and Kotor, Montenegro.  All are nice places and worth another visit, especially the Bay of Kotor.  In fact, it would be nice to explore more of the mountains of Montenegro, especially if you are into hiking.  As for me, I'd probably just find place with a balcony overlooking the Bay of Kotor, and enjoy the view.  And by view, I mean beer.